So Much More. Privacy. Space. Community. Nature.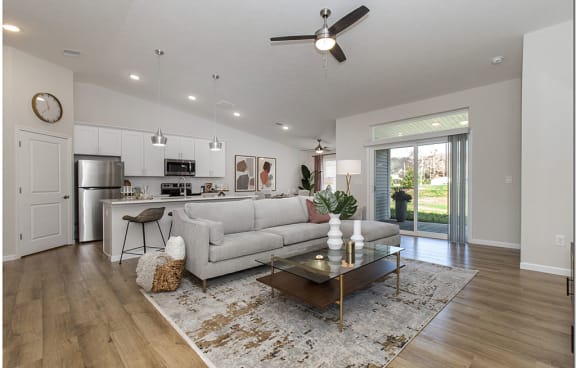 Riverwood Apartments in Akron, OH
Embrace Nature's Splendor in Akron, OH!
When deciding where to rent, value is at the top of the list. Modern amenities are a must. What takes value to an entirely different level is a home's natural surroundings. In Northeast Ohio, there's nothing better than living amidst the richness and beauty of Cuyahoga National Park!
Inside our Riverwood homes, you can enjoy a generous living space and top-tier amenities. On the outside, you have thousands of acres of Cuyahoga Valley Landscape to make your own. Our homes for rent in Akron, Ohio, put you just feet away from the park's 125 miles of trails passing through lush woodlands and pristine wetlands. Find yourself right on the river and directly below the valley's stunning night sky. Make hiking, biking, walking, fishing, and going for picnics part of your summer life, as well as skiing, snowshoeing, and even sledding part of your winter! Get outdoors and witness your body feel better and your mind sharper while living in one of our apartment homes near Cuyahoga Valley National Park.
Value is having every convenience plus a fresh feeling that's impossible to price. Come for a tour, have a look around, and make a life-exhilarating decision. Lease your home at Riverwood. Check out the vast array of both single-level and two-story floorplans and choose the one perfect for you.
Sized for Your Life
Your Perfect Home Awaits in Akron, OH!

A new apartment doesn't mean giving up the things you love about home. In fact, it means keeping the good parts and giving up the responsibilities. It means staying close to the life you love in Akron while being free to spend the day in the woods or on the water.

Live in a spacious single-or two-story apartment home in Akron with your own attached garage. With nobody above you and nobody below, you can enjoy peace and quiet as you wish. With large, open floor plans, you have room to host a gathering or just hang out. Whatever you want. The bedrooms are big, the kitchen is uncluttered, and modern amenities make you comfortable.

Riverwood is now leasing, so claim your space while you can!


Location, Community, Quality living. It Starts Here!